1.27.2732
Release date: 2020-11-04
Always backup the Zervicepoint database before upgrading! If you experience an installation failure you must restore the database before continuing.
New features and changes
Redesigned Admin Web landing page
We are happy to announce that our admin web landing page has gotten a face lift. This improvement comes with multiple new features.
First off we have added helpful links to tutorials and other documentation. We also included Quick links:
The well known Audit feed which was the main player before is now just featured as a scaled down version on the landing page. However if you wish to see the fully realized version you can find it in the navigation box to the left under MONITORING and Audit feed or click the button directly under Audit feed. You may notice one more addition in the navigation box, at the very bottom there is a clickable icon of a book this is a direct link to our documentation site: https://docs.zervicepoint.com.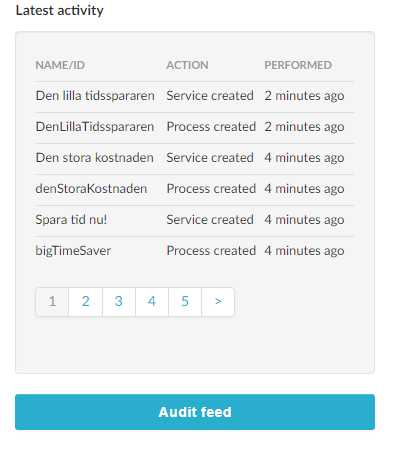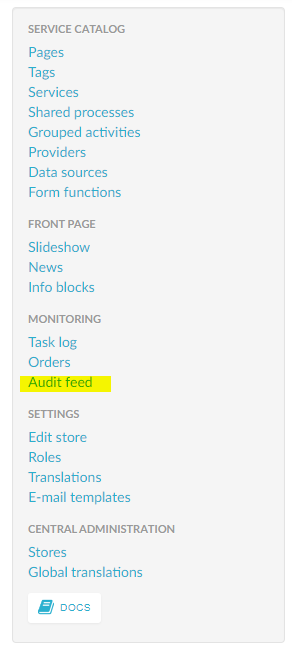 Lastly we've added a Usage activity & Reporting part where we display different metrics so that you get an overview of what goes on in your Zervicepoint portal.
Most time efficient services
Most ordered services
Top requester
Total number of services
Total number of orders
With all this we also introduced a new service property called Time saved, this allows you to estimate how much time you save by using this service instead of prior processes. The top five time savers will be displayed in the Usage activity & Reporting in the MOST TIME EFFICIENT list which you can see in the picture above.
Issues corrected
| Issue key | Summary |
| --- | --- |
| ZSD-5106 | Tasks in Todo do not show user's local time |
| ZSD-5115 | Users with more than 150 Azure groups get no roles |
| ZSD-5119 | Requested by shows Azure ObjectID instead of UserPrincipalName |
Known Issues
This section provides information about issues with Zervicepoint that were known at the time of writing this document. These issues may not appear in the product documentation, and in some cases may contradict existing product documentation. Whenever possible, these issues will be addressed in later releases.
| Issue | Summary |
| --- | --- |
| ZSD-2640 | Get-ZPCategoryTree returns system pages as well as pages |
| ZSD-2650 | Delayed validation in userweb setup form doesn't show validation message for fields |
| ZSD-3305 | Service selector close drop down directly in IE11 when there are many services |
| ZSD-3394 | It's possible to delete used task form |
| ZSD-3708 | ServiceTiles have one white pixel border in Chrome |
| ZSD-3727 | DropDown (not searchable) with Search function in provider returning nothing will say "Type to search" |
| ZSD-4119 | jquery.zfileupload.js följer inte IIS-inställningen |
| ZSD-4391 | Mobile GUI bug in Service Selector |
| ZSD-4410 | Hard to read Read Only text i mobile view |
| ZSD-4565 | [IE] Text does not wrap correctly in page text block sections |
| ZSD-4585 | Quantity issue |
| ZSD-4621 | Activity feed shows wrong time in Safari |
| ZSD-4723 | Posting a dropdown bound to variable to the same form in a task will result in an additional null,null option in the dropdown |
| ZSD-4750 | GetDefault not triggered on New action in table page |
| ZSD-4762 | Text is pushed out and becomes not visible in Drop Downs ( InternetExplorer ) |
| ZSD-4898 | AdminWeb: In the formeditor the "edit-form-field-dropdown" has become so long that all items are not always shown. |
| ZSD-5024 | Pasting an approval or task activity into a grouped activity workflow produces no error |
| ZSD-5105 | Clear-ZPOrderParameter cmdlet fail |